Selling Clive Davis
The Invitation
i'll admit it. When I was first invited to Clive Davis' apartment on Park Avenue to give my opinion on how to best market the property I was a little intimidated. This is CLIVE DAVIS after all, and although we were talking real estate and not music, I was more than a little anxious to meet the man responsible for so many legendary artists and hit records. Davis broke the careers of Aretha Franklin, Santana, Alicia Keys, Usher, Alan Jackson, Johnny Cash, Brad Paisley, Janis Joplin, P. Diddy, Pink, Kelly Clarkson, Aerosmith, Boston and Whitney Houston to name a few. A stunning contribution to the soundtrack of our lives crossing many different styles, genres and eras.
The Property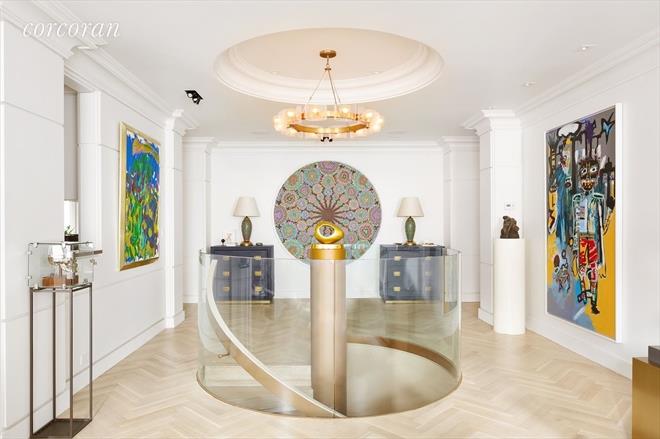 After viewing the stunning duplex, it was immediate that his legendary attention to detail was applied in full force to this gut renovation. I could tell that every element in the apartment reflected his personal brand of contemporary and classic and that he had not spared a dime in the furnishings or decor.

The apartment is a combination of two apartments above each other into a 3 bedroom 3.5 bath duplex -approximately 2,800 SF of living space. The unit features 5 zone heating and air conditioning, custom "Skyline" tilt and turn windows, Italian marble windowsills and Sonos surround sound with Episode speakers throughout (no surprise).
You enter the residence from the upper floor which features living & dining rooms, open pass-through kitchen & dining room. Descending the beautiful spiral staircase you arrive on the lower level which houses all 3 bedrooms with three matching baths. The entire apartment overlooks Park Avenue to the west and is quite sunny, reflecting the architect's choice of lighter shade woods, marbles and wall treatments. Mr Davis' formidable art collection is on full display and brings the home to life with works by Damien Hirst, Warhol, Botero, & Basquiat throughout.
The Sit-Down
Mr Davis greeted me and a small group of select brokers warmly as he entered the room. True to his style, he got down to business immediately after we all were seated. The problem? Almost no traffic and ZERO offers. The real problem? I think there are 2 or three challenges I said. Of course this being New York, most problems can be solved with money and an attractive sales price would certainly help to move the property. The other issues however would not be so easily addressed.
The sluggish Luxury Market in Midtown
The glut of new luxury alternatives in the area
The fact that this is a 50% down Co-op apartment with board review
The nearly $4/SF monthly maintennce
The dated lobby / building
After hearing these points from myself and a few others he was still sticking to his guns on holding the price at $7,000,000. The reason being? He had invested an enormous amount of money in the combination and renovation, and the amazing customized personal service that the building offers is unrivaled and would be of special interest to the "right buyer".
At the end of the day the general mood of the market effects both the never-been-heard of before as well as even the most famous among us, like Mr Davis. His predicament also reflects many cultural and generational shifts in the luxury market as well, like the move from co-op to condo, the move from uptown to downtown, the influx of new money vs old gate-keepers' money, and the increasing pressure being felt on older buildings and residences by the city's luxury developers and their relentless quest to redefine modern luxury in New York.
After shaking his hands and saying thank you and goodbye to him, I couldn't help but feeling a little nostalgic as I left. Would I ever get the chance to meet someone so influential on American culture again? Politicians come and go, but music? Now that's something that touches all of our lives and weaves its way through the soundtracks of our unique stories.
As I look for a buyer for Clive, I'll try to keep the focus on dollars and cents, but at the end of the day I'm inwardly smiling with the thought that I can in someway do something for HIM after all he's done for me. I've got a long cab ride downtown. Time to listen to Aerosmith.